Updated 25 January, 2016.
Protect Our Woodland
Campaigning to Save Ancient Landscapes
Latest: 6 Year Struggle wins freedom to roam click.
Binsted Woods at risk again click.
Local flooding click.
Chainsaw gangs arrive to destroy Combe Haven click.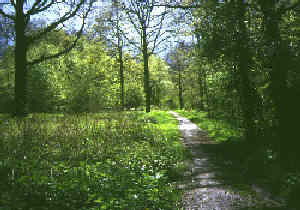 On March 15, 2010 Worthing borough council's planning committee dismissed the application to build within part of the Titnore Woods complex and on the productive farmland west of Durrington near Worthing, This decision saved a countryside scene similar to the one on the left.
For many, the committee's unanimous decision came as a complete surprise following their approval of the Tesco application on part of the farmland last year and their approval of all the previous stages. If our inbox is anything to go by, local residents were grateful to the committee for at last agreeing this development was wrong.
Unfortunately the euphoria didn't last long, when, at a meeting of the full council on March 29 a unanimous decision was taken to still include in the towns Core Strategy, the same Greenfield land for development.
---
We are sorry to report that the Tory led council gave the go-ahead 20 October 2011 for the Greenfield's to be developed. But at least the woods and ancient Titnore lane are safe for now! The latest (15 October 2014) is that a Reserved Matters application relating to estate roads, drainage and foul sewage issues was passed. It seems there are 3 other Reserved Matters applications to be heard before the development can start.
---
Finally to anyone not already on our mailing list please click. Remember the planning committee rejected the development of Titnore woods because you stood up and said no-way should it be allowed. Let the politicians and developers know we will fight any new application. Hands off woodland and the Durrington and Northbrook Greenbelt!
Click for past news.
Click for the old site and history.