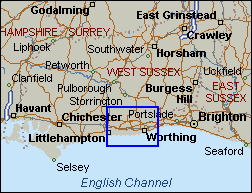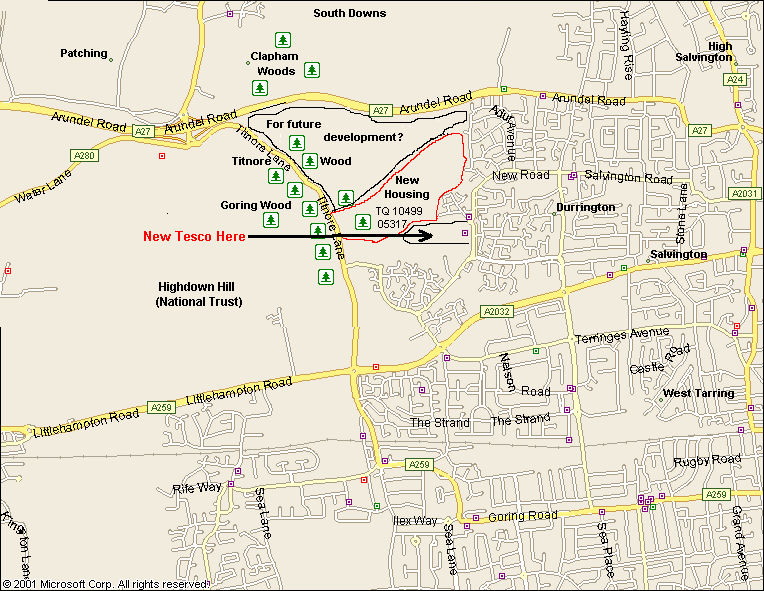 For high definition maps of the ecological impact area
Please click for aerial view
Please click for map 1
Please click for map 2
Please click for map 3
Please click for map 4
A MASSIVE battle is shaping up to save unique ancient woodland in West Durrington near Worthing in West Sussex which is under serious threat from Greenfield developers and road builders. Titnore Lane and the site ear-marked for development is located to the east of Highdown Hill between the A27 to the north and A259 to the South. North of the site and the A27 lie Clapham Woods (the largest dip slope unitary ancient woodland complex on the South Downs and the South Downs where the ground rises to above 300 feet. Most of this land is now within the South Downs National Park.
Titnore lane for many years has been a rat run for traffic commuting between the two major south coast trunk roads - now made even worse since being WRONGLY reclassified from the C37 to an 'A' road when the A27 Patching spaghetti junction was built - but its origins likely date back into prehistory as a droveway. From those very earliest times the lane proberly was an important feature in the life of community's, whether it be for moving animals, food or timber the chances are that it has always followed the same meandering trial. But not anymore if developers get there way.
If allowed a horrific plan could see over 1200 houses and various other buildings - outlined in red - eventually constructed on 125 acres of farmland, together with the widening and straightening of Titnore Lane to cope with the increase in traffic between the A27, A259 and the new developments.
Any road works would have a serious impact on the rare ancient semi-natural woodland that most likely has its origins back to the last ice age. Although much of this area has been designated a Site of Nature Conservation Importance (SNCI) and is completely irreplaceable developers often don't care a ****. It's likely many trees will have to be felled, some over 150 years old and comprising oak, ash birch and willow. The woods will also become more fragmented and a less viable home to the many protected species of wildlife, including bats, crested newts, dormice, slow-worms etc.
These trees are part of one of the last remaining areas of ancient woodland on the coastal plan and ironically the developer accepts that the ancient woodland is of great conservation importance. They agree it is known to support a considerable variety of bird species, Long Tailed Tit, Blackcap, Treecreeper, Willow Warbler and Chiffchaff. They also accept that the Oaks along Titnore Lane are of high lichenological interest and include Schismatomma quercina which is very rare in Sussex and the uncommon species Arthonia vinosa
Titnore Lane itself is part of our cultural heritage, reaching back at least to the Anglo-Saxon period and most probably way before that. It was part of a longer track that reached northwards across the Downs and is rich in archaeological remains. The woods below Highdown, the important iron age hillfort, are an important amenity for local people and the quality of life would be severely affected by the massive housing estate - and by the increase in traffic.
But that's not all. Although The present development application covers over 125 acres and is outside the South Downs National Park, it goes right up to the boundary. Clearly an alien intrusion on such an iconic landscape. The full area threatened by future development is bordered by the A27, Adur avenue, Fulbeck Avenue, Titnore Way and Titnore Lane The central OS Grid Reference is TQ 1005
That area also contains the Grade 1 listed Castle Goring, it's historic parkland and lake, together with Roman and prehistoric archaeology as well as the unique ancient woodland. It is worthy of note that in his report, the inspector who carried out the Local Inquiry into the Worthing Draft Local Plan stated: 'Proper recognition should be given to the importance of the Castle Goring Conservation Area'.
Finally, the full horror of this nasty scheme would be clearly seen from the view point of Highdown Hill (National Trust) and if the tree canopy is removed as a result of tree felling, the willful vandalism of any alterations to Titnore Lane would dominate and destroy the setting of the South Downs National Park towards the north.
May we please urge you to:
Object to this development by writing / e-mailing with your comments. These should be addressed to:
Executive Head of Planning, Regeneration and Wellbeing, Worthing Borough Council, Portland House, Richmond Road, Worthing, West Sussex. Or e-mail: planning@worthing.gov.uk
A letter in your own words will carry more weight than a standard one, so that is what we prefer. However if you feel unsure of what to write please see this sample letter click.
Remember to include your name and address, and all this has to be done NOW if possible.
Then of course with the local election soon upon us why not make a point of letting a councillor or two know how you feel about this development plan.
Then finally, if you live in the constituency of Peter Bottomley the local MP, send him a copy of your letter to the council with a covering note to say how concerned you are. Peter Bottomley can be contacted at Haverfield House, Union Place Worthing.
Or by e-mail: bottomleyp@parliament.uk
Please feel free to copy this text to anyone you think may be interested enough to write.