Flooding: Will It Be Your Turn Next?
THE Map below, taken from the Environment Agency's website, shows the area at most risk (in blue) and possible risk (light green) in times of prolonged rainfall and is the approximate area that saw the serious floods 30 or so years ago when dozens of homes were flooded.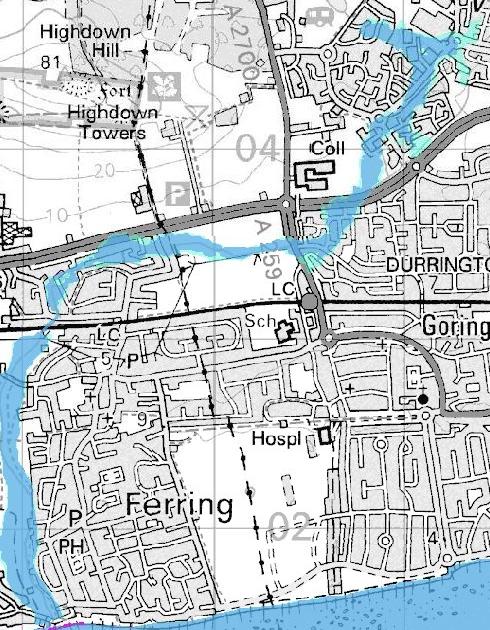 Water flows into the Ferring Rife from several sources one of those is the Lake - top center by caravan symbol. That Lake in turn is filled by aquifer fed streams and ditches that run through the Titnore Woods complex. However the farmland - Durrington's greenbelt - to the East of the Woods and North of the Tesco Extra at present acts like a sponge, thus preventing a sudden rush of water into those streams etc overwhelming the lake and subsequently the Ferring Rife.
In planning the development, that is now being built on the farmland, some thought was given to the flooding risk heightened by the run off from roofs and roads and a series of 'ponds' are to be created. That arrangement may be all well and good for a 'normal' rain fall, but the climate is changing and as we saw recently the Ferring Rife was only just able to cope even with the benefit of 125 acres of Greenfield's acting like a sponge.
If you live in the following roads a visit to the Environment Agency's flood risk website (see and enter your post code in the box on the r/h side bar) is advised so is an objection to the West Durrington Development lodged with Worthing councils planning department (see)
ROADS etc at risk. Not in any particular order:
Varey road, Moore Cl, Bourne Cl, Calion Cl, Squadron Dr, Essenhigh Dr, Thompson Cl, Ashburnham Cl, Deerswood Cl, Birches Cl, Faraday Cl, Shelby Rd, Montreal Wy, Columbia Dr, Willow Cres, Romany Rd, Sycamore Cl, Poplar Rd, Whitebeam Rd, Silver Birch Dr, Magnolia Cl, Holly Cl, Chestnut Wk, Lilac Cl, Laurel Cl, Yeoman Rd, Yeoman Wy, Boxgrove, Harting Cl, Chailey Cl, Patching Cl, Fittleworth Cl, Coleridge Cres, Ferring La, Ancren Cl, Downview Ave, Downview Rd, Highdown Cl, Highdown Way, Rifeside Gdns, Brookside Cl, Langbury Lane, Onslow Caravan Pk. There is also a risk to property's bordering the Rife in south Ferring.
With at least 5 floods of biblical proportions in the UK since 2000 scientists are critical of the way we measure the risk of flooding.
Sir David King, the Government's former Chief Scientific Adviser speaking on the BBC's flagship News 24 programme (Saturday, 20 November 2009) following the Cockermounth flood disaster, said that the 1 in 100 year event when measuring the likelihood of flooding taking place was now obsolete. Climate change has thrown doubt on the way we measure flood risk. If we built flood defenses to cope with a 1 in 1000-year event, even that might prove inadequate.
Retiring in 2007 Sir David had advised the government on everything from GM foods to stem cell research, and foot-and-mouth disease to nuclear power for seven years. He was also well known for advocating a stop to building on flood plains.
All residents living in the above roads that the sustainable urban drainage scheme (SUDS), referred to in the developers application for the West Durrington Development, has been designed only to cope with a 1in 100 year flood risk + 30% - and even then unproven. Are you reassured by this SUDS scheme?